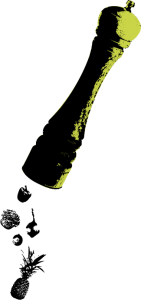 The Blanche philosophy is to create food that is nutritious, well-balanced, wholesome but still utterly scrumptious (so good it tastes like it should be bad…). There's no need for preservatives, additives or colourings – all our food is prepared freshly and packed with herbs and spices – why would we want to put anything else in it!
We care about our ingredients and use free range eggs, fair trade coffee, tea and chocolate.
Our patisserie chefs use the finest French flour and butter to create our amazing authentic croissants and venoisserie. They make all our cakes, cookies and brownies and take our word for it – these guys really care (and are somewhat pedantic) about their work!
We don't pre-pack our food and as we grow as a business, we are conscious of the need to source sustainably, and keep our environmental impact to a minimum.
We now supply nutritional information – a key outline below lists various potential allergens. There are lists in our shops that you can ask for too.
Celery
This includes celery stalks, leaves, seeds and the root called celeriac. Celery is also found in celery salt, some salads, some meat products, soups and stock cubes.
Cereals Containing Gluten
Including wheat (such as spelt and Khorasan wheat / kamut), rye, barley and oats, batter, breadcrumbs, bread, cakes, couscous, pasta, pastry, sauces, soups, certain meat products and fried foods which have been dusted with flour.
Crustaceans
Crabs, lobster, prawns and scampi and any products made from their derivatives.
Eggs
Eggs are often found in cakes, some meat products, mayonnaise, mousses, pasta, quiche, sauces, pastries and pastries brushed / glazed with egg.
Fish
Fish can be found in some sauces, pizzas, relishes, salad dressings, stock cubes and in Worcestershire sauce.
Lupin
Lupin can be found in flour. Lupin flour and seeds can be used to make certain types of bread, pastries and pasta.
Milk or Dairy
Milk is a very common ingredient found in butter, cheese, cream, milk powders and yoghurt. It is occasionally also used to glaze products.
Molluscs
This food group includes, mussels, land snails, squid and whelks but can also be found in oyster sauce.
Mustard
Liquid mustard, mustard powder and mustard seeds all fall into this category. They can be found in breads, curries marinades, meat products, salad dressings, sauces and soups.
Nuts
Not to be mistaken with peanuts, this ingredient refers to nuts grown on trees, such as Cashew nuts, almonds and hazelnuts.
Peanuts
Peanuts are a legume and grown underground. They are often used as an ingredient in biscuits, cakes, curries, deserts, dips and sauces.
Sesame Seeds
These seeds are often sprinkled on bread, breadsticks and they are found in hummus, sesame oil and tahini. Some Blanche salads are dressed with sesame seeds.
Soya
Found in bean curd, edamame beans, miso paste, soya protein, flour and tofu.
Sulphites
Sulphur dioxide / sulphites are an ingredient used in dried fruit such as raisins, dried apricots and prunes. You can also find it in dried meat products, soft drinks and vegetables.