.Hello there one and all
Much has been going on here at base-camp Blanche over the last month and we're delighted to launch our rejiggled website, which in time will allow you to order our fabulous food online. There's a new range of salads on our winter menu to help you start the year with the best healthy intentions….don't worry, you can still pick up our splendid cakes and patisserie when you call in (we can't be good all the time).
We've a couple of great offers running next month – to take advantage you need to visit our Kensington or Portobello branches.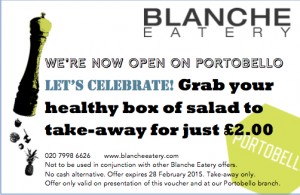 We are also launching our loyalty card scheme this week to thank our lovely customers and offer you tip-top discounts on our top-notch delicious food.
Here's to a happy, healthy and prosperous new year for all you perfect Blanche Eatery lovers.